Dear Emma
Below is a photo of a very rough sketch that I scribbled with a very blunt crayon in a well-known Japanese restaurant this week.  Take a look.
There's you in the middle (terrible drawing, i know, I'm sure you don't wear orange A-line dresses! Hope it makes you laugh, not cry!) and all around you are those parent bloggers supporting you in this Shoulder to Shoulder Today #S2S2D blog hop marathon that we're currently in the middle of.  I've called it 'Circle of Friends'.
You may wonder why you've got your arms outstretched. It's to show how extraordinarily open and receptive you've been to us all, encircling you, holding hands as we pass the baton of hosting and posting to each other each day.
In reality, there's at least 60 people encircling you, but that was asking just too much of my blunt crayon, the soy sauce stained paper and, well, me.
For those of you who're wondering what I'm going on about read this next para in italics. For those who know, skip it to the following one.
A large group of bloggers are supporting a lovely young mum, Emma Day, who's been having to go through a period of isolation from her very young family (one year old twins and 6 yr old girl). This is owing to a course of radiotherapy she's recently had to zap the dastardly cancer that set up camp in her thyroids recently. It meant she's not been allowed to go within 1-2 metres of her precious family and yet still live in the same house for potentially up to 30 days. The mind boggles. Incredibly tough.  So we all committed to writing posts to keep her chin up during the 30 days from 22 May – 23 June, under the heading 'Shoulder to Shoulder to Day' (#S2S2D).  See her blog for more www.crazywithtwins.com.
But then, just this Thursday, on Day 10 of her isolation, she wrote on her blog that her radiation levels have come down incredibly early and she's been allowed to go hug her girls and husband!!!! Wow. That's 20 days early (I think!)
So, Emma, huge congrats. We are thrilled for you.
This whole experience has shown me the best of what blogging can do and be about: to be looking outward to others' needs, offering strength and support to those for whom the tough side of life has just got a whole lot tougher.
The opposite of what I feel blogging can at other times be about – me, myself and I.  If I'm not careful, and I think I'm not alone here, I can fall into that most human of traps: make it all about myself. What do you mean, I hear you all cry? Of course blogging is about ourselves. Yes, yes, hang on, blogging is of course about our lives, laughs and struggles, but it can so easily become more than that and become a platform that we use to boost our self esteem or merely our bank balances.  Or a place where we try desperately to be better than the next one.  Or maybe its just me…. 😉
So what I love about this 'blog hop' is that its turned our thoughts outward, to get together and do something collectively extraordinary for an ordinary family going through extraordinary circumstances. I'm a part of it, and I'm so proud to be part of something so positive and life giving (and don't worry, I'm the one in the sketch wearing those hideous green shoes!)
Emma says she reckons all this support has spurred on a speedy recovery for her. The power of positive words, prayers and encouragement should not be underestimated!  So we jump up and down and go 'yay' that you've made it through this first stint of isolation so fast, Emma…..
Emma will be running in Race for Life this summer (I know, quite a woman). If you'd like to sponsor her, go to her page here. She needs some more sponsors to help her reach her £500 target. I think we can do that, don't you?

And if you want to join in with this blog hop today link up here and write something about your experience of cancer that has been positive, or merely something to bring  a smile to Emma's face….thanks!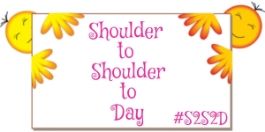 Powered by Linky Tools
Click here to enter your link and view this Linky Tools list…